How California Props 64 and 215 Affect Marijuana Users, Growers, and Sellers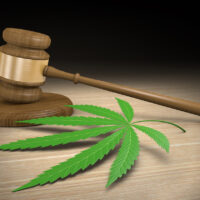 California voters passed Prop 64, the Adult Use of Marijuana Act (AUMA), on November 8, 2016, which permits the adult recreational growth and use of marijuana (or cannabis). The commercial sale and purchase of marijuana became legal earlier this year. Continue reading to learn what is allowed under California law, and contact an experienced San Bernardino criminal defense attorney with any additional questions.
Personal growth and use of marijuana
Under AUMA, effective November 8, 2016, adults over 21 are permitted to possess or give away up to an ounce of marijuana or eight grams of concentrated cannabis. Amounts in excess of the one-ounce limit must be stored in a locked space and must not be publicly visible. Adults may also possess or grow up to six live plants for personal use. AUMA has additional provisions that regulate the sale, manufacture, and taxation of marijuana, reduce the penalties for marijuana-related charges, and allows those with marijuana-related convictions to petition the courts for reduction of the charges.
Californians are still prohibited from smoking or otherwise ingesting marijuana in public places, or within 1,000 feet from a place where children are typically present (outside of a private residence or designated smoking area). Like alcohol, marijuana use or open-container possession while in a car as a driver or passenger is also prohibited.
Commercial sale of marijuana
Under AUMA and the Medicinal and Adult-Use Regulation and Safety Act (MAUCRSA), the commercial sale of marijuana is legal under California law as of January 1, 2018. The seller must obtain a state license and can only sell to adults. Local county and city governments are free to limit the rights of sellers in those regions: For example, the Riverside City Council recently voted to prohibit the commercial growth and sale of marijuana within city limits. Riverside residents can still use marijuana and grow up to six plants indoors.
Medical marijuana
Prop 215, passed in 1996, authorizes the medicinal use of marijuana for patients of all ages. Patients must get a prescription from a California-licensed physician, and minors must obtain parental consent.
Federal prosecution is still a risk
It is very important to remember that cannabis is still illegal under federal law. Under the Controlled Substances Act (CSA), 21 U.S.C. § 811, cannabis is considered a Schedule I drug, and growth, possession of large quantities, and sale, even for medicinal use, are chargeable as crimes. While the Obama administration took a relaxed position towards marijuana, the Trump administration has made it clear that federal prosecutors can crack down on marijuana even where it is legal under state law.
The Law Offices of John D. Lueck is a trusted Rancho Cucamonga criminal defense law firm with more than 35 years of service to clients in San Bernardino and Los Angeles counties. These cases are highly sensitive and require experienced representation to ensure your rights are protected. If you or someone you know has been arrested for a drug crime, contact Rancho Cucamonga criminal law lawyer John D. Lueck at 909-484-1963 for a free initial consultation.<