A California Bench Warrant Can Land You In Jail Like R. Kelly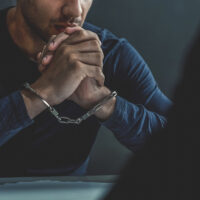 A California bench warrant authorizes police to arrest an individual on sight, leading to potential jail time. A bench warrant can be issued by a California judge for a variety of reasons. Bench warrants, unlike other arrest warrants, are not necessarily based on specific criminal activity. Many do arise in the criminal context, however. For example: A San Bernardino man was recently transferred directly from one jail sentence to another after police found an outstanding bench warrant based on his failure to appear in court for an earlier crime.
In general, a court can issue a bench warrant when a person fails to comply with a court order, whether they are a criminal defendant or they are simply a person who ignores a subpoena or other court order. Rapper R. Kelly was recently arrested completely separately from his various criminal charges after failing to comply with a court order regarding unpaid child support. Read on for a discussion of bench warrants, and contact a skilled Rancho Cucamonga criminal defense attorney with any additional questions or if you may be the subject of a bench warrant in Southern California.
When will a court order a bench warrant?
Although bench warrants often arise in criminal matters, unlike California arrest warrants, they are not issued based on suspected criminal activity. Instead, bench warrants are typically issued based on a failure to comply with some court order. They are commonly issued when a person fails to do any of the following:
Personally appear in court when required, for any reason (criminal or civil)
Surrender themselves for a jail or prison term
Pay a court-ordered fine or restitution
Pay court-ordered child or spousal support
Give over a child for court-ordered visitation or custody
Obey any court order
Obey the terms of your probation or parole
Bench warrants are commonly issued when a criminal defendant fails to show up for trial. For example, a man facing charges of child endangerment in San Bernardino County was recently arrested in Los Angeles County on charges of burglary. When the police ran his fingerprints upon his burglary arrest, they found an outstanding bench warrant issued after he failed to show up for court in Yucca Valley. When his 180-day burglary sentence was finished, the authorities transferred him right back to the San Bernardino County Sheriff's Department to stand trial for his earlier alleged crime.
A California court has equal authority, however, to issue a bench warrant when a person refuses to comply with a subpoena, fails to show up for jury duty, or disobeys a court's enforcement order regarding child support or visitation. If you have missed a court date or deadline and are concerned you may be the subject of a bench warrant, call a dedicated Southern California defense attorney immediately to help you resolve the situation and avoid potential jail time.
Rapper R. Kelly arrested on bench warrant for unpaid child support
A recent publicized event is a strong reminder that bench warrants can lead to jail time even if the warrant is unrelated to a crime. While rapper R. Kelly made news based on a variety of serious criminal charges, he faced immediate jail time for unrelated reasons: He was dragging his feet in paying child support. He had, at that point, refused to comply with enforcement orders demanding payment.
After R. Kelly was released on bail pending trial for his criminal charges, an Illinois county judge issued a bench warrant demanding his arrest if he failed to pay around $161,000 in child support owed to his ex-wife. Though he claimed he was unable to pay for a variety of reasons, the court had no sympathy when issuing the warrant. Ultimately, the rapper did not settle up by the court's deadline and was taken right back to jail, pending his eventual payment or otherwise doing a better job of convincing the judge that he was truly unable to pay.
Call Criminal Defense Attorney John D. Lueck for Help with Bench Warrants in Rancho Cucamonga
The Law Offices of John D. Lueck is a trusted Rancho Cucamonga criminal defense law firm with more than 42 years of service to clients in San Bernardino and Los Angeles counties. These cases are highly sensitive and require experienced representation to ensure your rights are protected. If you or someone you know has been arrested for a crime, contact Rancho Cucamonga criminal defense lawyer John D. Lueck at 909-484-1963 for a free initial consultation.