Study Disproves Myth That Motorcycle Helmets Lead to More Broken Necks During Crashes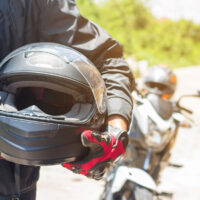 There is a common view among motorcycle riders that while wearing helmets reduces the risk of brain injury, helmets lead to neck injuries in the event of a crash. A recent study from the University of Wisconsin-Madison addressed this view that motorcycle helmets cause more harm than good. Read below to learn more about the study addressing the neck pain due to helmet myth, and contact a knowledgeable San Bernardino motorcycle accident attorney if you've been hurt in a crash with a negligent driver.
Results of the study: Motorcycle helmets prevent, rather than cause, neck injuries
A UW Health neurosurgeon evaluated the cases of 1,061 motorcycle crash victims at the university's hospital over the five-year period between 2010 and 2015. According to the 2018 report, only around a third of the victims were wearing helmets at the time of their crashes. Wisconsin does not have a law requiring motorcycle riders to wear helmets.
Riders without helmets suffered on average many more injuries to the neck than those without: 15.4 percent of riders without helmets had at least one cervical spine, or neck, injury, than those wearing helmets. Further, riders without helmets had twice as many cervical spine fractures: While only 4.6 percent of riders with helmets broke a bone in their neck, 10.8 percent of riders without helmets suffered broken neck bones. Injuries to neck ligaments were also more common among riders without helmets.
The results contradict the view among some opponents to helmet laws that helmets increase the likelihood of neck injury in a crash.
UW study is in line with results of earlier studies
The UW study follows other studies that have previously addressed the pervasive myth that motorcycle helmets are dangerous for riders. A 2017 report issued by the Motorcycle Safety Foundation reviewed motorcycle accidents in Los Angeles in cooperation with the University of Southern California and like the UW study found no increase in neck injuries associated with helmet use. Instead, the study found a high rate of neck injury in fatal crashes among helmeted and non-helmeted riders, and fewer neck injuries in non-fatal crashes.
The Law Offices of John D. Lueck is a trusted Rancho Cucamonga law firm with more than 30 years of experience handling personal injury cases in San Bernardino and Los Angeles counties. If you or a family member has been the victim of a motorcycle accident, contact Rancho Cucamonga personal injury attorney John D. Lueck at 909-484-1963 for a free initial consultation.