San Bernardino Couple Expecting Child Were Among Four Killed in Car Crash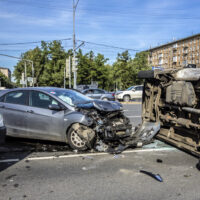 A recent accident in the Moreno Valley claimed the lives of four people, including a young couple expecting their first child. Learn more about this tragic accident below, whether one can sue for the wrongful death of an unborn child, and contact a knowledgeable Rancho Cucamonga car accident lawyer if you have been injured in a car crash in San Bernardino County.
Four killed in accident on CA-60 on a Friday night
Around 7:30 p.m. on a recent Friday, three cars were traveling westbound on the 60 Freeway near Redlands Boulevard when one of them lost control. The car hit a dirt median, then the guardrail, before slamming into the concrete median and flipping over. All four people inside the car were killed. A fifth person involved was taken to a local hospital with minor injuries. All five victims were San Bernardino residents in their early 20s. One of the victims, a 20-year-old girl, was seven months pregnant. Her fiancé and the expectant father, 21, was also in the car.
After the accident, police were searching for the two other cars involved in the crash: a black or silver Honda Civic and a black Mazda hatchback. Police said that the cars were racing, which led to the accident.
Can the family sue for the wrongful death of the unborn child?
If someone else caused the crash, the family members of the people killed can bring what is known as a wrongful death suit. California Code of Civil Procedure (CCP) 377.60 sets out the causes of action for people who can sue for a family member's death. The family can sue for economic damages caused by their loss, such as medical expenses or loss of income, and they can also sue for emotional pain and suffering caused by the death of a family member.
Some states do allow family members to sue for the death of an unborn child as a separate person from the deceased mother. California is not one of those states. In 1977, the California Supreme Court held in Justus v. Atchison that an unborn child is not a separate person for the purposes of wrongful death lawsuits unless there has been a live birth.
If the deceased were themselves at fault for the accident, then there are no actionable wrongful death claims.
The Law Offices of John D. Lueck is a trusted Rancho Cucamonga personal injury law firm with more than 35 years of service to clients in San Bernardino and Los Angeles counties. These cases require experienced representation to ensure your claims and damages are properly pursued. If you or someone you know has been seriously injured or killed in an accident, contact Rancho Cucamonga personal injury lawyer John D. Lueck at 909-484-1963 for a free initial consultation.