California Adopts New Regulations to Clarify Law on National Origin Discrimination in the Workplace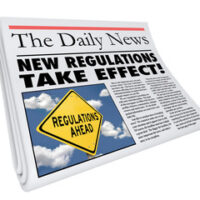 While California has long prohibited discrimination in the workplace based on national origin, there have been ambiguities in the law including the distinction between racial and national origin discrimination as well as what conduct actually constitutes discrimination based on national origin. New regulations from California's Fair Employment and Housing Council (FEHC) clarify what constitutes national origin discrimination and what employer conduct is prohibited. Below learn about the new regulations, and contact a knowledgeable Southern California workplace discrimination attorney with any additional questions.
New laws for 2018 in California clarifies the stance on national origin discrimination
Section 11027.1 of the California Code of Regulations defines "national origin" and related terms in the context of employment discrimination. The FEHC recently adopted regulations which went into effect on July 1 that modify the definitions in this section, as well as prohibited conduct in Section 11028. The extensive modifications clarify, for example, the definition of "national origin" and "national origin groups," as well as appropriate and illegal employer policies regarding language in the workplace, questions about immigration status, and physical requirements for employees.
Defining "national origin"
"National origin" as clarified by the revised rules includes someone's actual or perceived:
physical, cultural, or linguistic characteristics associated with a national origin group;
marriage to or association with persons of a national origin group;
tribal affiliation;
association with an organization connected to the interests of a national origin group;
connection to schools or religious institutions generally used by persons of a national origin group; and
name that is associated with a national origin group.
The regulations cover "perceived" as well as actual national origins; harassing conduct, for example, that mistakes someone of one national origin for another (e.g., making derogatory comments about an "Arab" man who is actually Indian), still qualifies as national origin discrimination.
Prohibited employer conduct under the revised rules
The revised Section 11028 explicitly prohibits employers from enforcing English-only language restrictions in the workplace or punishing employees for their accents unless it "interferes materially" with the job. The new rule also adds threats to call immigration authorities to the conduct that qualifies as unlawful retaliation. The regulations clarify that harassing conduct includes behaviors like use of slurs or derogatory comments, threats to call immigration authorities, and mockery of an employee's accent. It is impermissible to refuse employment or limit the eligibility for specific roles based on national origin, outside of certain exceptions that qualify as bona fide business reasons for doing so. Language requirements must likewise be appropriately tailored to the position.
If you believe you are the victim of discrimination in the workplace in Southern California because of your race, national origin or religion, or if you have suffered harassment because of gender, sexual orientation, or if you have been sexually harassed and want to know your options, contact the passionate and skilled attorney John D. Lueck for a free consultation at 909-484-1963.